Tutkimusta akupunktion vaikutusmekanismeista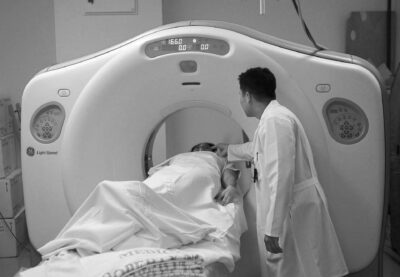 Akupunktiolla on monissa tutkimuksissa havaittu olevan selviä vaikutuksia erilaisia sairaustiloja hoidettaessa. Akupunktion vaikutusten taustalla olevat mekanismit ovat kuitenkin vielä osittain huonosti tunnettuja. Nykyään tehdäänkin paljon uutta tutkimusta, jonka avulla yritetään paremmin ymmärtää tämän perinteisen hoitomuodon taustalla olevia vaikutusmekanismeja ja hoitomuodon mahdollisuuksia.
Pitkään suurin osa akupunktiota kohtaan esitetystä kritiikistä on perustunut sille, ettei sen vaikutusmekanismia ole tunnettu. Tilanne on kuitenkin muuttunut viimeisen vuosikymmenen aikana radikaalisti samalla kun erilaiset kuvannusmenetelmät ovat kehittyneet ja niiden hinta on laskenut sen verran, että niitä on voitu soveltaa paremmin myös akupunktiotutkimuksessa. Myös tehosta saatu näyttö on lisännyt kiinnostusta hoitomuodon tutkimista kohtaan ja hoitotuloksille on haluttu löytää perinteisiä selitysmalleja modernimpi ja tieteellisempi selitys.
Nykyinen ajatus akupunktion vaikutusmekanismeista liittyy tyypillisesti useiden erilaisten järjestelmien kuten immuniteetin, umpieritysrauhasten ja hermoston muodostamiin kokonaisuuksiin.
Selaa tutkimuksia tai valitse aiheaulue
---
Treatment of insomnia based on the mechanism of pathophysiology by acupuncture combined with herbal medicine: A review.
Application of fMRI techniques in the study of acupuncture for gynecological diseases: A review.
Role of GRPR in Acupuncture Intervention in the "Itch-scratch Vicious Cycle" Spinal Circuit of Chronic Pruritus.
Efficacy and underlying mechanisms of acupuncture therapy for PTSD: evidence from animal and clinical studies.
The immunomodulatory mechanisms for acupuncture practice.
Functional magnetic resonance imaging providing the brain effect mechanism of acupuncture and moxibustion treatment for depression.
Acupuncture treatment for post-stroke depression: Intestinal microbiota and its role.
Research progress on acupuncture treatment in central nervous system diseases based on NLRP3 inflammasome in animal models.
Effect and mechanism of acupuncture on Alzheimer's disease: A review.
A review of neuroendocrine immune system abnormalities in IBS based on the brain-gut axis and research progress of acupuncture intervention.
Acupuncture for Women with Overactive Bladder: Perspective of Traditional Chinese Medicine and Related Mechanism.
Revealing the Central Mechanism of Acupuncture for Primary Dysmenorrhea Based on Neuroimaging: A Narrative Review.
Manual acupuncture for neuromusculoskeletal disorders: The selection of stimulation parameters and corresponding effects.
The factors affecting neurogenesis after stroke and the role of acupuncture.
Role of nerve signal transduction and neuroimmune crosstalk in mediating the analgesic effects of acupuncture for neuropathic pain.
Research progress on the immunomodulatory mechanism of acupuncture in tumor immune microenvironment.
Exosomes may be the carrier of acupuncture treatment for major depressive disorder.
Treatment of Alzheimer's disease by combination of acupuncture and Chinese medicine based on pathophysiological mechanism: A review.
Acupuncture increases parasympathetic tone, modulating HRV - Systematic review and meta-analysis.
A Biophysical Model for Cardiovascular Effects of Acupuncture-Underlying Mechanisms Based on First Principles.
Relationship between acupuncture and transient receptor potential vanilloid: Current and future directions
Potential mechanisms of acupuncture in enhancing cerebral perfusion of ischemic stroke
Current status of neuroimaging research on the effects of acupuncture: a bibliometric and visual analyses.
Acupuncture for Parkinson's disease: From theory to practice.
Memory-directed acupuncture as a neuromodulatory treatment for PTSD: Theory, clinical model and case studies.
Revealing the magic of acupuncture based on biological mechanisms: A literature review.
Combination of stem cell therapy and acupuncture to treat ischemic stroke: a prospective review.
Mast Cells and Acupuncture Analgesia.
Activation of Subcutaneous Mast Cells in Acupuncture Points Triggers Analgesia.
Evidence-Based Application of Acupuncture in Theriogenology.
Changes of local microenvironment and systemic immunity after acupuncture stimulation during inflammation: A literature review of animal studies.
The effects of acupuncture therapy in migraine: An activation likelihood estimation meta-analysis.
Clinical Efficacy of Acupuncture for the Treatment of Rheumatoid Arthritis: Meta-Analysis of Randomized Clinical Trials.
Comparison of Efficacy of Acupuncture-Related Therapy in the Treatment of Rheumatoid Arthritis: A Network Meta-Analysis of Randomized Controlled Trials.
The efficacy and mechanism of acupuncture in the treatment of male infertility: A literature review.
The impact of acupuncture on neuroplasticity after ischemic stroke: a literature review and perspectives.
The autonomic nervous system: A potential link to the efficacy of acupuncture.
Multidimensional Pain Modulation by Acupuncture Analgesia: The Reward Effect of Acupuncture on Pain Relief
Therapeutic applications and potential mechanisms of acupuncture in migraine: A literature review and perspectives.
Potential mechanisms of acupuncture for neuropathic pain based on somatosensory system.
Acupuncture Interventions for Alzheimer's Disease and Vascular Cognitive Disorders: A Review of Mechanisms.
Cerebral Blood Flow Velocity Modulation and Clinical Efficacy of Acupuncture for Posterior Circulation Infarction Vertigo: A Systematic Review and Meta-Analysis.
Acupuncture for Female Infertility: Discussion on Action Mechanism and Application.
Role of Bile Acids and Nuclear Receptors in Acupuncture in Improving Crohn's Disease.
Clinical Efficacy and Potential Mechanisms of Acupoint Stimulation Combined With Chemotherapy in Combating Cancer: A Review and Prospects.
Revealing the Neuroimaging Mechanism of Acupuncture for Poststroke Aphasia: A Systematic Review.
Visualization and Analysis of the Mapping Knowledge Domain of Acupuncture and Central Nervous System Cell Apoptosis.
A Review on the Immunomodulatory Mechanism of Acupuncture in the Treatment of Inflammatory Bowel Disease.
High-frequency electroacupuncture improves endometrial receptivity via regulating cell adhesion molecules and leukemia inhibitory factor / signal transducer and activator of transcription signaling pathway.
Neural Activation Acupuncture in Patients With Major Depressive Disorder: A Functional Near-Infrared Spectroscopy Study
A neuroanatomical basis for electroacupuncture to drive the vagal-adrenal axis.
Research Progress on the Mechanism of the Acupuncture Regulating Neuro-Endocrine-Immune Network System
Roles of central orexinergic system on cardiovascular function and acupuncture on intervention of cardiovascular risk: Orexinergic system mediate the role of acupuncture?
Evidence of Potential Mechanisms of Acupuncture from Functional MRI Data for Migraine Prophylaxis.
Efficacy and Underlying Mechanism of Acupuncture in the Treatment of Posttraumatic Stress Disorder: A Systematic Review of Animal Studies.
Historical perspectives on using sham acupuncture in acupuncture clinical trials.
Non-specific effects of acupuncture and sham acupuncture in clinical trials from the patient's perspective: a systematic review of qualitative evidence.
The mechanism of electroacupuncture for depression on basic research: a systematic review.
Acupuncture for the Treatment of Itch: Peripheral and Central Mechanisms.
Potential Mechanisms of Acupuncture for Functional Dyspepsia Based on Pathophysiology.
Anti-Inflammatory Effects of Acupuncture at ST36 Point: A Literature Review in Animal Studies.
Acupuncture for Parkinson's Disease: Efficacy Evaluation and Mechanisms in the Dopaminergic Neural Circuit.
The Anti-Inflammatory Actions and Mechanisms of Acupuncture from Acupoint to Target Organs via Neuro-Immune Regulation.
Mechanism of Acupuncture and Moxibustion on Chronic Prostatitis/Chronic Pelvic Pain Syndrome: A Narrative Review of Animal Studies.
Bibliometric Analysis of Functional Magnetic Resonance Imaging Studies on Acupuncture Analgesia Over the Past 20 Years.
Acupuncture for Primary Dysmenorrhea: A Potential Mechanism from an Anti-Inflammatory Perspective.
The Temporal Dynamics of EEG Microstate Reveals the Neuromodulation Effect of Acupuncture With Deqi.
Progress of Acupuncture Therapy in Diseases Based on Magnetic Resonance Image Studies: A Literature Review.
A Narrative Review of Neuroimaging Studies in Acupuncture for Migraine.
Neuroimaging in the Understanding of Acupuncture Analgesia: A Review of Acupuncture Neuroimaging Study Based on Experimental Pain Models.
Resting-State fMRI in Studies of Acupuncture.
Mechanism of Action of Acupuncture in Obesity: A Perspective From the Hypothalamus.
Acupuncture Medical Therapy and its Underlying Mechanisms: A Systematic Review.
The Role of Neuroglial Crosstalk and Synaptic Plasticity-Mediated Central Sensitization in Acupuncture Analgesia.
Somatotopic Organization and Intensity Dependence in Driving Distinct NPY-Expressing Sympathetic Pathways by Electroacupuncture.
Hiding in Plain Sight-ancient Chinese anatomy.
The selection of dermatomes for sham (placebo) acupuncture points is relevant for the outcome of acupuncture studies: a systematic review of sham (placebo)-controlled randomized acupuncture trials.
Applications of Acupuncture Therapy in Modulating the Plasticity of Neurodegenerative Disease and Depression: Do MicroRNA and Neurotrophin BDNF Shed Light on the Underlying Mechanism?
Verum- versus Sham-Acupuncture on Alzheimer's Disease (AD) in Animal Models: A Preclinical Systematic Review and Meta-Analysis.
Augmented Mechanical Forces of the Surface-Modified Nanoporous Acupuncture Needles Elicit Enhanced Analgesic Effects.
The Neuroscience of Nonpharmacological Traditional Chinese Therapy (NTCT) for Major Depressive Disorder: A Systematic Review and Meta-Analysis.
Effectiveness of Acupuncture in Treatment of Simple Obesity in Animal Models: A Systematic Review and Meta-Analysis.
Central and Peripheral Mechanism of Acupuncture Analgesia on Visceral Pain: A Systematic Review.
Effects of acupuncture on vascular dementia (VD) animal models: a systematic review and meta-analysis.
Coarse needle surface potentiates analgesic effect elicited by acupuncture with twirling manipulation in rats with nociceptive pain.
Manual and electrical needle stimulation in acupuncture research: pitfalls and challenges of heterogeneity.
Mechanisms of Acupuncture-Electroacupuncture on Persistent Pain
Acupuncture and depth: future direction for acupuncture research.
Cerebral hemodynamic responses to acupuncture in migraine patients: a systematic review.
Defining meridians: a modern basis of understanding.